Students of the Faculty of Law of Charles University ranked in the top 5 at the Central and Eastern European Moot Competition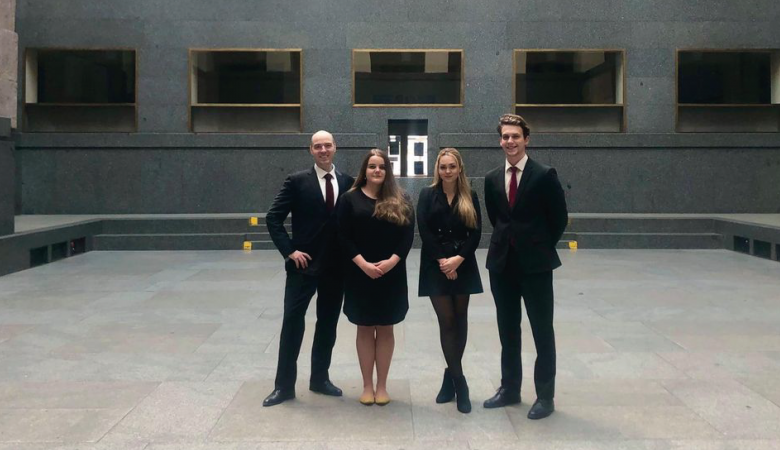 Students of the Faculty of Law of Charles University ranked in the top 5 at the Central and Eastern European Moot Competition
The Faculty of Law of CU student team, made up of Jolana Ordeltová, Sára Tichá, and David Závada, finished 4th in the oral round of the Central and Eastern European Moot Competition (CEEMC) 2021, which took place on 8 to 9 May via Zoom. They also won two individual awards.
The oral round was the final stage of the competition, preceded by nearly five months of intensive work on written and oral pleadings. Thirteen European teams were selected for the oral round.
The team representing the Faculty of Law of CU finished 1st in the first part of the oral round, which qualified the students for the semi-finals of the competition the following day. They competed with the University of Warsaw and Comenius University in Bratislava, and won against both teams. However, the Charles University team did not receive enough points to qualify for the finals, and finished 4th. The finals were dominated by a mixed team from the Tbilisi State University and the Free University in Tbilisi in Georgia.
The great performance of the Charles University team was reflected in the  individual awards. Sára Tichá won the Best Speaker Award, which makes her eligible for a traineeship at the Court of Justice of the European Union. David Závada received the Individual Speaker Award and a book prize for his work.
This year, the team was supervised by Mgr. et Mgr. Miroslav Jakab. The guarantor of the 2021 CEEMC was JUDr. Jan Exner.