New Visiting Professor at the Faculty of Law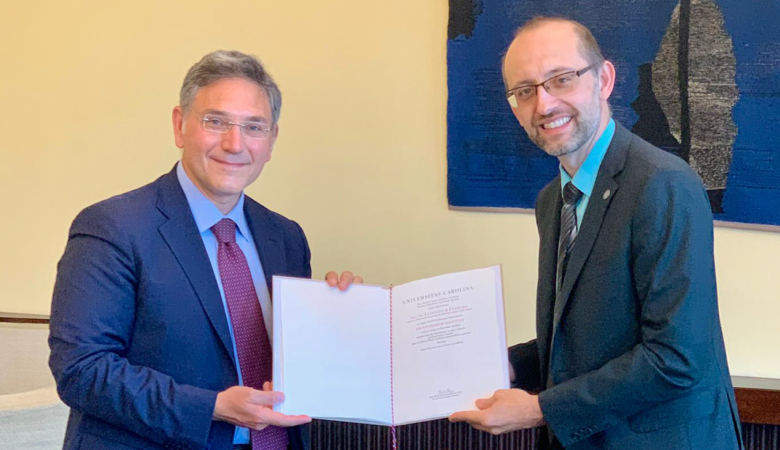 New Visiting Professor at the Faculty of Law
On 26th June 2023, Professor Luigi Ferrara received his appointment decree from the hands of the Dean of the Faculty, Professor Radim Boháč. He will act as the new Visiting Professor at the Department of Administrative Law and Administrative Science of our Faculty.
Professor Ferrara is teaching comparative and EU administrative law at the University "Federico II" in Naples, Italy. In his academic work, he focuses in particular on migration law, cultural heritage law and law of territorial cohesion. He is member of editorial boards of legal journals "P. A. Persona e amministrazione" and "Amministrativ@mente". Further, Professor Ferrara is also member of several scientific associations, such as ICON-S - The International Society of Public Law, OLA - Observatory on Local Autonomy, Italian- Brazilian Association of Professors in Public Law, Laboratoire Méditerranéen de Droit Public and of the San Martino Group. Also, he is member of Advisory Committee to the Naples National Archeological Museum.
Since 2016, Professor Ferrara has been intensively cooperating with our Faculty in the field of comparative administratiove law. He initiated a platform for a mutual student exchange between Naples and Prague. He is also member of the editorial board of "The Lawyer Quarterly", which is being published by the Czech Academy of Sciences.
In his capacity of Visiting Professor, Luigi Ferrara will be teaching courses in English in the postgraduate programme "Theoretical Legal Sciences - Law and Legal Theory in European Context".
New Visiting Professor at the Faculty of Law