"I would not choose any other school…"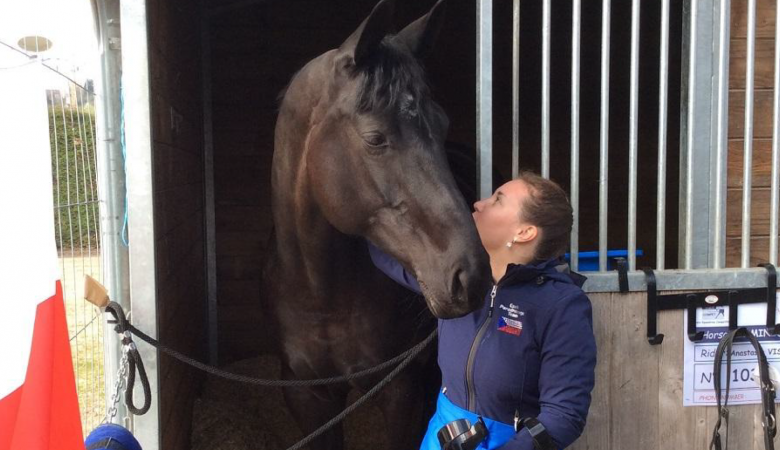 "I would not choose any other school…"
Nasťa Vištalová, law student and equestrian, finished 13th at the 2020 Tokyo Paralympic Games. What is it like to combine studying and Paralympic sport? Enjoy our interview with a personality who proves that anything is possible if you try.
Nasťa was born with cerebral palsy. Her doctor first recommended hippotherapy when she was three years old. She started riding professionally at the age of 13, and since then, she has been nothing but successful in equestrian sports. At first, she also competed in swimming, but her love for horses prevailed, and still does today. This year, she finished 13th in Tokyo. However, these were not her first Paralympic Games. She participated already in the 2016 Rio Paralympic Games, where she was the first Czech Paralympian to represent our country in horse riding. Her goal is to score an Olympic hat trick and start a career in advocacy.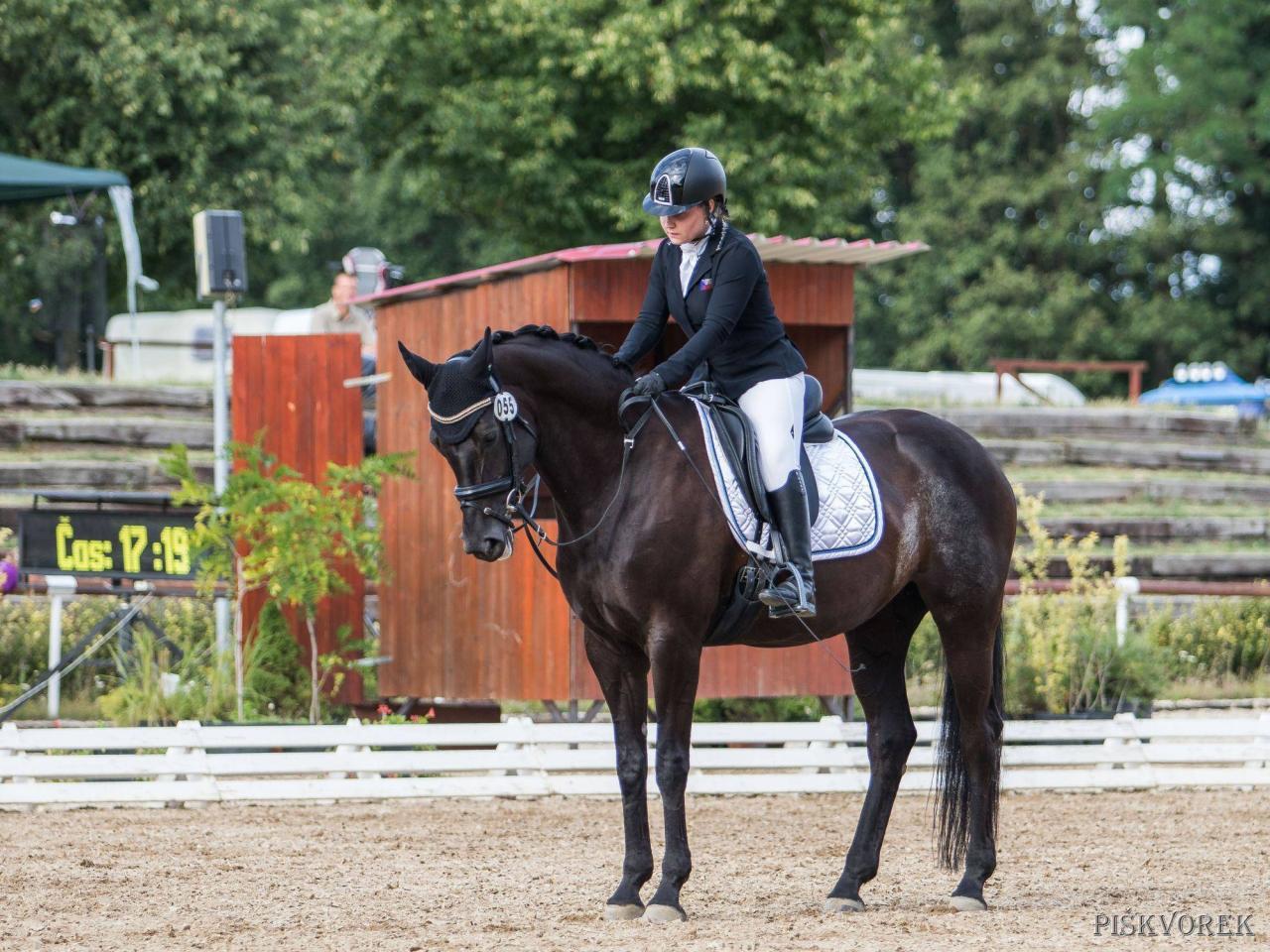 Is it difficult to combine studies and top-level sport? What is your priority? How much time do you spend training?
This is quite a tricky question because everything depends on how you organise and manage your time. Generally speaking, I have always made my timetable based on which elective and optional subjects I found interesting, and then added the compulsory subjects and lectures.
I have always tried to have Fridays off as most international equestrian competitions are held in the format of "long weekends". In addition to studying and training, I have found time for a paid traineeship and free-time activities.
Training is in fact made up of several different activities – it is not only about being in the saddle, but also about many other activities where you are not on the back of a horse. I have regular physiotherapy sessions and Feldenkrais lessons. I also exercise and work out regularly, to keep fit and maintain endurance. I train in the saddle two to three times a week.

 Why did you decide to study law? What about your future career – are you planning to combine sport and law after you finish your studies?
Studying and practising law has been my dream since the eighth grade of elementary school, so unlike my classmates, there was nothing to think about when deciding what to do next in my last year of secondary school. I knew exactly what I wanted to do, so that is what I did. And I have to say, now that I am at the very end of my studies and I can look back at my time at university, I would not have chosen a different university or faculty. Studying law at Charles University was definitely the right choice for me.
I would like to pursue my career as a lawyer. I am most interested in civil and criminal law. Sports law or issues related to people with disabilities is not something I am considering in terms of my future career at the moment, but never say never, I will have to wait and see where my future steps take me. I am open to all possibilities.
What changed in your studies and in sport with the outbreak of Covid-19?
The pandemic has definitely affected our sport, in particular the 2020 season, which ended before it could even start. Last year, international competitions were held only until the end February, then everything was put on hold. It is true that we were all training and preparing for the highlight of the season, which was supposed to be the 2020 Paralympic Games in Tokyo, but the general uncertainty and impossibility to compete had us all worried. Equestrian sports are unique in that they require collaboration with a live animal that needs to compete regularly so that it is not stressed by the atmosphere. Training in a well-known environment is completely different from going to a brand new horse-riding complex that the horse does not now, and require that it give the best performance possible for three days straight.
We have all been waiting a long time for sports activities to restart at the beginning of this year, and everybody was really happy when it actually happened. Sure, competing without the audience is sad in a way, but it is still better than cancelling all the competitions. Also, live broadcasts of the events made it possible for the fans to be present in some form.
Last year was quite unusual for me because it was the very end of my studies. I took the state final examination, which I passed in May and September. I then worked on my diploma thesis, and this is where I felt the pandemic restrictions the most. Even though I had digital access to the National Library of Technology, often I could not find the publications I needed, and I had to use only the literature that was available. I also had to deal with some technical issues relating to the overload of the electronic library. At the end of the day, the diploma thesis took more time than I expected.
And I have to say I missed being at the faculty, too. I like school, I have many friends and acquaintances there. Being an extrovert through and through, I had a really rough time having no social life, in particular cutting down contact with people.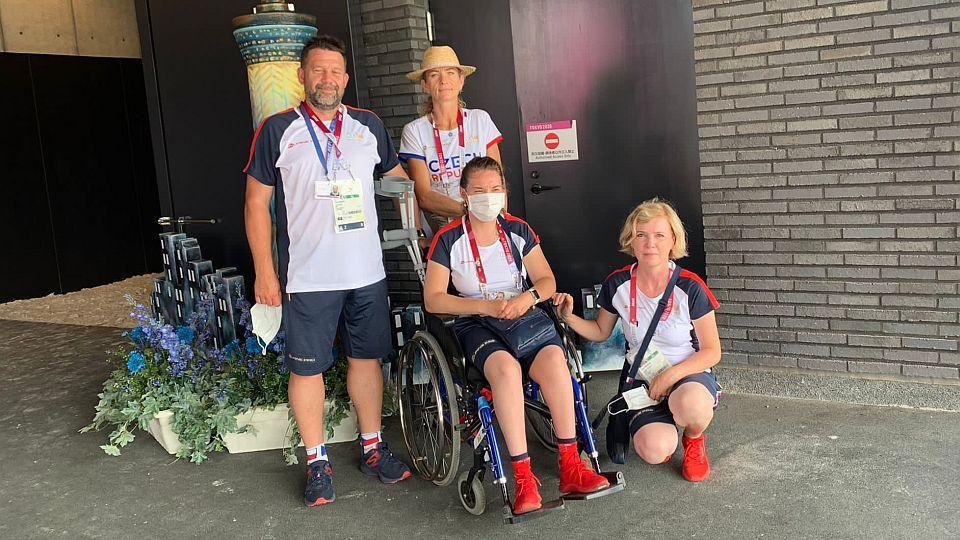 The website of the Czech Paralympic Team says that you will be glad for any good position at the Tokyo 2020 Games that will make your team happy. Were they happy? And what about your horse?
I have sort of mixed feelings from my ride, I am happy with my performance, and I think I did everything I could, but I was quite surprised by the judges' marks. I thought my percentage score would be much higher. Moreover, the difference in score between individual judges was more than 9%, even though the established practice is that it should not be more than 1.5%. Three judges really liked our dressage test, but two out of five judges gave it a really low score, which is why we did not rank in the top 10 in the end.
However, para-dressage is very subjective. I participated in only one international competition in the saddle of my riding partner, so the judges have not seen me much. This might have played a role, too. But the team were still really happy with both me and my horse. Also, I gave my four-legged friend some treats and bananas, which is what he likes best.
How do para-equestrian sports differ from equestrian sports?
Olympic equestrian sports include show jumping, eventing, dressage, and, to a certain extent, also the modern pentathlon. Men and women compete together, and team as well as individual medals are awarded.
Para-equestrian, or para-equestrian dressage, is derived from equestrian dressage, and it is the only Paralympic equestrian discipline that was first added to the programme of the Paralympic Games in Atlanta in 1996. It is not unlike figure skating – the horse and the rider perform a series of given movements in a competition arena, which are assessed by a panel of judges who give marks on a scale from 1-10 for each individual component. At the end of the dressage test, the judges also score the overall impression and the way the rider influences the horse. The scores are then converted into a percentage and the team with the highest percentage wins.
Para-dressage is divided into five competition grades, with riders being classified based on physical tests. The individual categories reflect the riders' disabilities. Just like at the Olympics, the Paralympic competition is mixed gendered, and both individual and team medals are awarded.
Riders are allowed to use "compensating aids" to compensate for their disability. The aim is to bring the rider as close as possible to a rider who does not have any impairments. These aids include, for instance, looped reins, use of voice, loops on saddles, or two whips. I belong to the category of riders with the most severe disabilities, who only ride at walk pace.

The faculty has been improving its facilities to make the building as accessible as possible to people with special needs. A barrier-free ramp for the main entrance will be built soon, and so on. What else could be done for students for whom the architecturally beautiful, but not originally barrier-free building, complicates moving around the faculty?
As far as I am concerned, the faculty is barrier-free enough because I "only" walk on crutches, so I can even go up the stairs from time to time just fine. But, for example, it is sometimes very difficult to open the door on the fourth floor, and I struggle with it considerably.
What are your plans in terms of your sporting career – will you be at the next Paralympic Games?
Next year, I would like to compete at the World Championships in Herning in Denmark. In the long run, my biggest goal is to score a Paralympic hat trick. I would love to take part in three Paralympic Games in a row. I already competed in Rio in 2016, then in Tokyo in 2020, or actually in 2021, so I will definitely try to qualify for the 2024 Paralympics in Paris. 
Do you have a special curriculum accommodated to top athletes?
I had what is called a functional diagnosis at school, which was associated with restrictions resulting from my disability. The diagnosis means that there were slight formal modifications for examinations – because of my spastic hand, it is difficult for me to write by hand, so I was allowed to take written exams on a computer, or take the exam orally instead of in writing based on an agreement with the instructors.
However, I do not have, and I would not want to have, any special privileges in the sense that I would sit for some exams on dates other than those set by the department, or have extra attempts to pass an exam.
Is it complicated to get a special curriculum? Does it involve a lot of paperwork?
I learned about the option of getting a functional diagnosis, which is a document that specifically describes my disability and offers certain compensation procedures for the studies, during the lectures given to first-year students.*
I have to say that all the instructors in the course of my studies were extremely helpful and willingly accommodated the form of the examination to my disability, but at the same time, made sure that all the students had a level playing field.
Does the school meet professional athletes halfway?
I cannot say, it is not something I needed. I have always done sports in my free time because it brings me joy and a sense of fulfilment, but this does not mean that I should have any special treatment in other areas. Simply put, I have had the same conditions as everyone else during my studies, which I really enjoyed. If I were to choose again, I would not have changed anything in this approach.
Author: Katerina Prochazkova
*Editorial note: An orientation week for students starting their first year is organised at the beginning of September before the start of each academic year. Students learn everything they need to know about their studies at Charles University: information about the university's information system, the libraries, bursaries, curricula for students with special needs, dormitories and canteens, student life, and much more.