CU Faculty of Law Team Comes 3rd at the INADR International Law School Mediation Tournament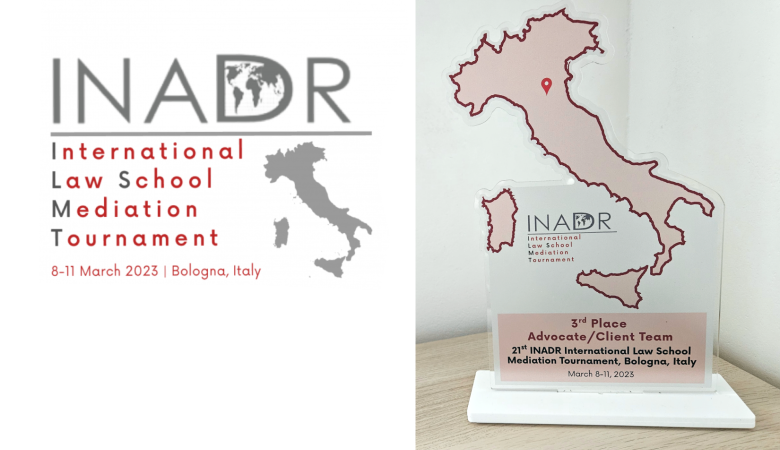 CU Faculty of Law Team Comes 3rd at the INADR International Law School Mediation Tournament
In early March 2023, the team representing the Faculty of Law of Charles University participated in the INADR Law School International Mediation Tournament in Bologna. The team was composed of Lukáš Jirásek, Lucie Heráčková, and Sabina Škrobánková, and coached by Mgr. Tomáš Ryza, doctoral student at the Department of Financial Law. The Charles University's negotiating team finished 3rdin the finals in the Advocate/Client category. 
The competition has three preliminary rounds in which each competitor performed the role of the advocate, client, and mediator. The cases were primarily business-related, but one of the cases also concerned a family matter this time. The competitors were judged by internationally recognised experts who evaluated their ability to collaborate between the client and the advocate, negotiating strategy and techniques, ability to defend and reach their objectives, as well as constructive collaboration with the opposing party. The Faculty of Law team then competed with the Indian NALSAR University of Law in the semi-finals, and with Danish Aarhus University in the final round. 
Markéta Burelli and Štěpán Vlk from the Faculty of Law of CU also participated in the competition in a mixed team which qualified for the semi-finals.
To celebrate International Women's Day, the educational programme of the competition also included the International Mediation Conference "Women in Mediation", another great opportunity to gain valuable knowledge in the field. The speakers talked about topics related to Women and Mediation: United Nations Experiences and Reflections (Dr Laura Bologna, United Nations Official) or the Marginalization of Women Peacemakers (Dr Kenneth Frank, USA). The competing students could also attend a number of lectures on mediation and negotiation focusing on strategies, negotiating and mediating techniques, and other related issues.