Heads of Czech Diplomatic Missions Visiting Faculty of Law, Charles University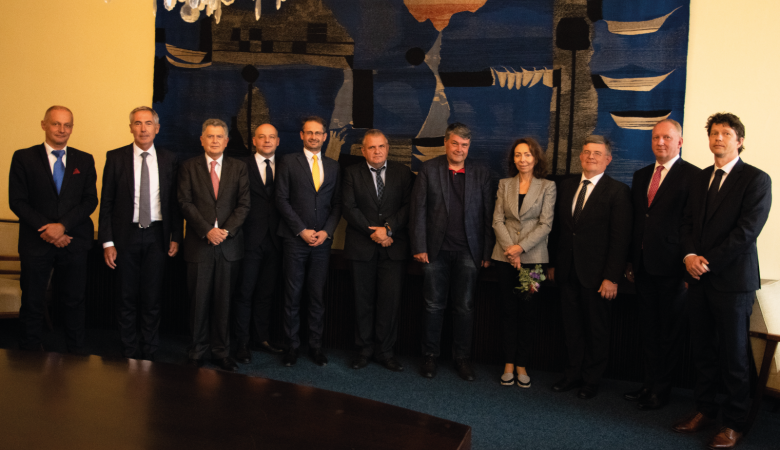 Heads of Czech Diplomatic Missions Visiting Faculty of Law, Charles University
A meeting of ambassadors and consuls general of the Czech Republic and the faculty's management was held on Tuesday 24 August 2021 at the Faculty of Law.
The invitation was accepted by HE, Ambassador JUDr. Marie Chatardová (Permanent Mission of the CR to the UN in New York), Ambassadors JUDr. Pavel Klucký (Belgium) and Ing. Tomáš Pernický (Belarus), Consuls General JUDr. Jan Čížek (St. Peterburg), Ing. Jaroslav Kantůrek (Chicago), Ing. Arnošt Kareš (New York), Mgr. Daniel Žára (Düsseldorf), and Deputy Minister for Legal and Consular Affairs of the Ministry of Foreign Affairs JUDr. Martin Smolek, Ph.D., LL.M.
The heads of Czech diplomatic missions abroad received an invitation to visit the Faculty of Law of Charles University during their annual meeting organised by the Ministry of Foreign Affairs of the Czech Republic in Prague. The guests, many of them graduates of the Faculty, were received by the Dean, Prof. Jan Kuklík, and the Vice-Dean for International Affairs, Prof. Milan Damohorský. The event was supported by the International Office (JUDr. David Kohout) and the Communication and Public Affairs Office (Mgr. Vlasta Tichá).
In the introductory presentation, the Faculty was presented to the guests, with an emphasis on its international activities. The guests present then discussed the options of promoting the Faculty's educational programmes (LL.M., Ph.D. in English), or networking in order to support further academic cooperation. The reception also included a tour of the building.
We would like to extend our thanks to Deputy Minister JUDr. Smolek, who mediated the faculty's invitation to the representatives of Czech diplomacy, for his support of this enjoyable and informal special event.