CENTRAL 2022 International Conference for PhD. Students "Central Europe: What unites and divides us"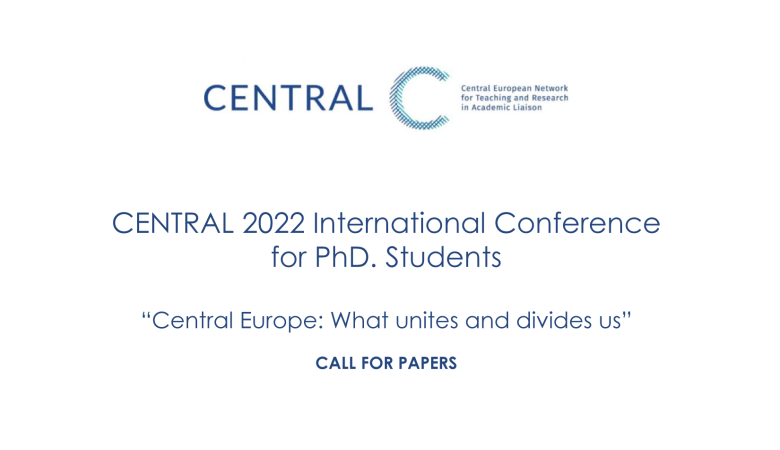 CENTRAL 2022 International Conference for PhD. Students "Central Europe: What unites and divides us"
CENTRAL 2022 International Conference for PhD. Students

"Central Europe: What unites and divides us"
CALL FOR PAPERS
The CENTRAL Network – Charles University, Humboldt University in Berlin, University of Vienna, University of Warsaw and ELTE University in Budapest – primarily promotes cooperation in the fields of teaching, research and support for young researchers. In connection with the opening of the second stage of the cooperation, CENTRAL announces a special topic followed by further activities. Each of these topics has had wider social or political importance, especially within the context of Central Europe. The goal for academics or PhD. students from different countries,backgrounds and areas of study is to come up with multilateral ideas and solutions. The theme is "Central Europe: What unites and divides us". The topic may be dealt with freely; on one hand, it may be interpreted as a social issue, while on the other hand it can be understood as a ground for the presentation of outputs in the field of scientific and pedagogical cooperation within the Central European region.
The CENTRAL Conference for PhD. students aims to bring PhD. students and selected senior academics from the CENTRAL member universities together. The event starts with an online lecture approximately 14 days before the physical meeting and is supposed to inspire participants for their contributions. The main purpose isto discuss what unites Central Europe and what causes its division. Each session starts with a lecture by an invited senior academic, followed by a discussion and a student workshop. During the workshop, each student presents their 15-minute paper, where they try to formulate their opinion on the topic. That may also be based on the topic of their dissertation.
The conference will take place in Prague, from 21 to 25 November 2022.
Both full-time and part-time Ph.D. students are strongly encouraged to apply to participate. At this event. In case of interest, please sent your application form to Ludmila Páralová (email: paralovl@prf.cuni.cz) until 19 September 2022.